THE WRC 2019
One of the most anticipated events of the year, we thank the topographical terrain of our city that gives us one of the most incredible events filled with world-class adrenaline.
We thank the Government of the State of Guanajuato for its valuable participation and coordination of this event.
We make a cordial invitation to our city, you will fall in love with the people and their events. Especially this event is aimed at a young market that enjoys racing cars, adrenaline and extreme sports.
You can enjoy the Rally in three different ways, the first in the comfort of a bar established in the area of ​​the Plaza de las Ranas, accompanied by a good beer. The second on the dirt roads where one night camping to see the two circuits of the cars running at full speed, certainly a family activity.
The third in the comfort of the Autodromo in the city of Leon Guanajuato, where they can enjoy the cars, the pilots and all their equipment, running in small circles, very recommendable
Below I present information obtained from the website of FIA 2019, I hope you enjoy it. Nallely Rangel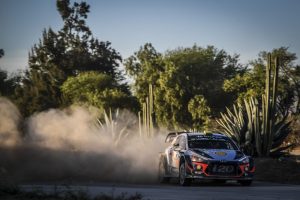 Run in the Sierra de Lobos and Sierra de Guanajuato mountains, the rally climbs to a height of 2'700 metres above sea level, where the thinner air deprives the engines of oxygen, which can result in a potential power loss of up to 20 per cent. Ambient temperatures of up to 30°C add additional stress to the machinery. Teams take special measures to ensure the reliability of their cars, and the drivers must adapt their driving styles to the conditions.
With three different manufacturers sharing the podium in both of the opening rounds – and two different crews on the top step – it has been a thrilling start to the season, and Rally Mexico promises to add another exciting episode to the story. Ten World Rally Car drivers will battle it out on the Central American stages, with Dani Sordo making his debut on the championship this year in the Hyundai i20 Coupé driven by Sébastien Loeb in the opening two events of the season. As part of his preparations for Rally Mexico, the Spaniard, who finished second in Mexico in 2018, competed – and won – Rali Serras de Fafe in Portugal last weekend, the opening round on gravel of the Iberian FIA European Rally Trophy.
In the FIA WRC 2 Pro category, Poland's Lucasz Pieniazek (M-Sport) will pilot a Ford Fiesta R5 car, alongside four FIA WRC 2 entrants: Benito Guerra from Mexico, Marco Bulacia Wilkinson from Colombia and the Heller brothers, Pedro and Alberto, from Chile.
All of the stages can be watched live on WRC All Live on WRC+, with three stages additionally broadcast live on television: SS12 and SSS15 (El Brinco) and the rally-ending SS21, Las Minas Power Stage.
THE 2019 ROUTE
The Rally Mexico route features only minor changes compared to 2018. The event traditionally holds its stunning opening stage in the colourful town of Guanajuato on Thursday evening, where the crews take on the city's narrow streets and former mining tunnels. Friday includes two runs over the rally's epic "El Chocolate" test, the season's highest point at more than 2'737m. Both Friday and Saturday's itineraries feature a street stage in León and two runs around the city's racing circuit. Saturday is the longest day of this year's rally, with an extended Otates, the longest stage of the rally with 32.27 kilometres. The day also includes El Brinco, where the famous jump has been replaced by a man-made ramp in a dry reservoir which should contribute to a spectacular finish. On Sunday, the penultimate Mesa Cuata stage is new, using the opening half of El Chocolate before turning towards Guanajuato, where the Las Minas Power Stage will finish.
© 2019 FIACREDITS TERMS AND CONDITIONS DATA PRIVACY NOTICE CONTACT US WOMEN IN MOTORSPORT AROUND THE GLOBE WOMEN IN ENGINEERING CAREERS FIA FOUNDATION
This website uses cookies. By continuing to use our site you are agreeing to
https://www.fia.com/news/2019-fia-world-rally-championship-rally-mexico-preview
#rally #wrc #mexico #guanajuato